I was lucky enough to design a range of jewellery inspired by the poetry and children's books of the Poet Laureate Carol Ann Duffy for the Much Wenlock Poetry Festival. Carol Ann Duffy was the patron of the festival and also performed there. The collection was featured in a solo show at the Twenty Twenty Gallery in Much Wenlock, Shropshire, from April to August 2010 and then exhibited in London in 2011 at Contemporary Applied Arts.
I was excited about the idea of making a connection between poetry and jewellery. Poetry has always been a passion and I love Carol Ann Duffy's work. Her poems and stories are full of jewellery images and metaphors and were a feast of inspiration. The poems set my creative forces alight. It was a pleasure using such beautiful words as inspiration for my work and I can only hope Carol Ann feels that what I have created has done them some degree of justice.
Carol Ann Duffy wrote the poem 'Bees' especially for the occasion and I made a large pendant, also called 'Bees' which I presented to Carol Ann as a gift at the festival. The limited-edition necklace is an oversized bee made from oxidised silver and silver. It has four wings that fall open when inverted as a representation of the lotus flower in the poem. I've now added two more sizes of Bee to my collection.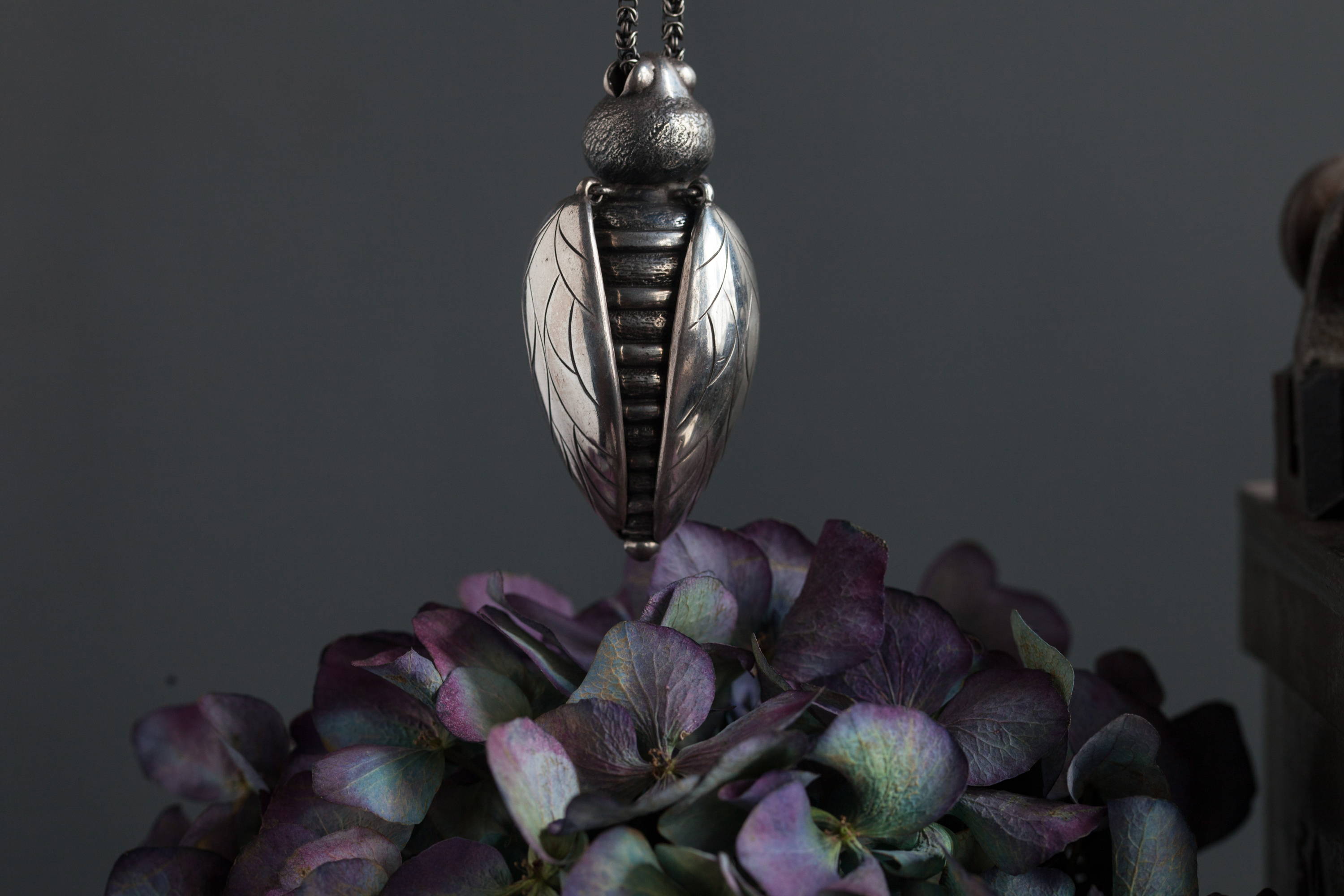 "Here are my bees,
gold blurs on paper.
Besotted, buzzwords, dancing
their flawless, airy maps.
Been deep, my poet bees,
in the parts of flowers,
in daffodil, thistle, rose, even
the golden lotus; so glide,
gilded with talent, thus -"
by Carol Ann Duffy
TEAR THIEF AND SACRED TEARS NECKLACES
'The Tear Thief' is a magical and evocative piece. Carol Ann describes the tears as 'jewels in the darkness of the sack' and 'scared tears were white like moonstones'. It instantly created a picture in my mind and I couldn't wait to get to work. I really wanted to get across the shape, movement, light and dark of this beautiful story in the two necklaces. The Tear Thief necklace is
made with two large moonstones, set in silver with cascading moonstone droplets.
The Scared Tears necklace used blacked oxidised silver to contrast the ethereal moonstones.
EXTRACT FROM THE TEAR
THIEF
"Each night, in the hour between supper and bedtime, I visit a different street and steal the tears of every child who cries.
When my sack is full, I climb up to the moon and I pour my sack of tears into the moon's light"

by Carol Ann Duffy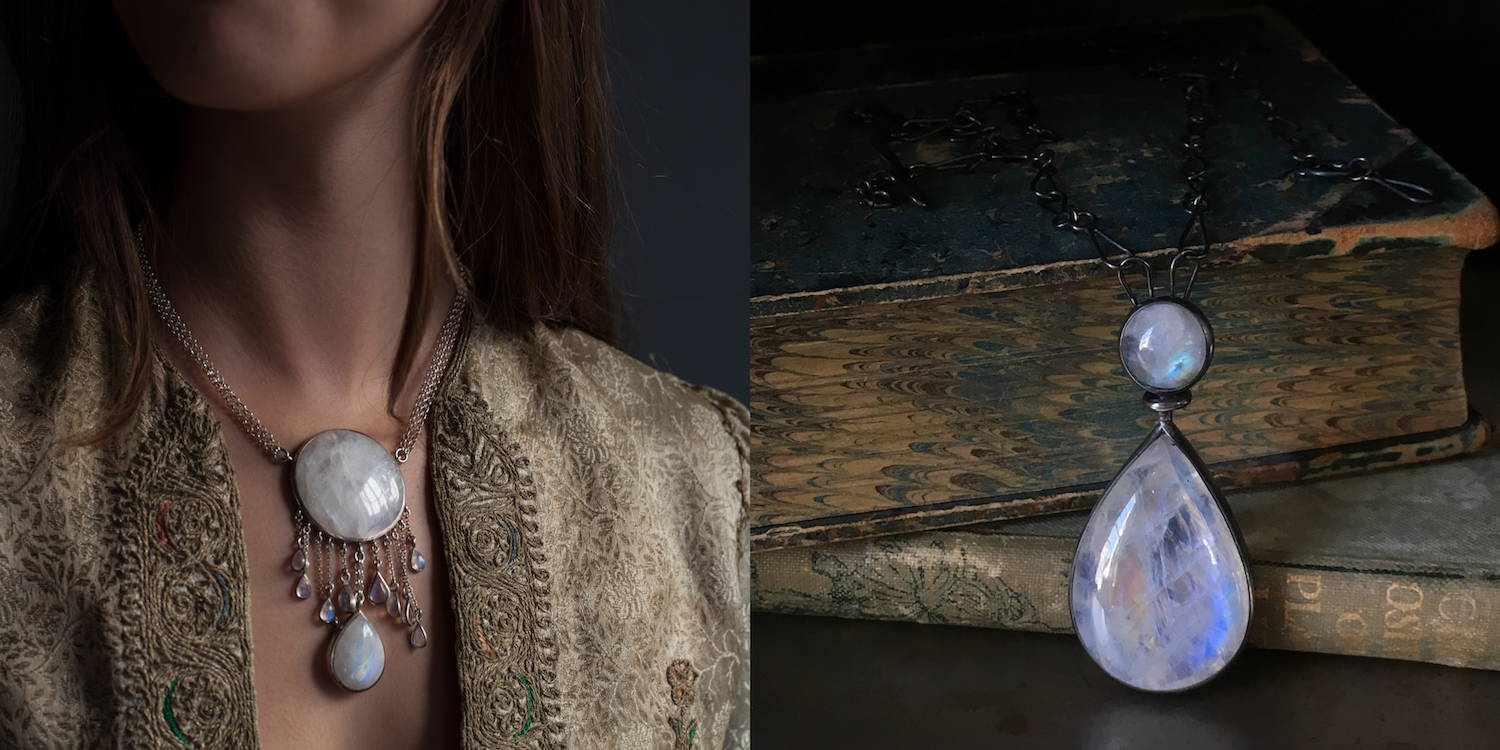 My interpretation of this verse has three intertwined gold rings with no beginning or end, engraved with the words
I LOVE YOU.
EXTRACT FROM FINDING THE WORDS
"I found the words at the back of the drawer,

wrapped in black cloth like three rings
slipped from a dead woman's hand, cold
dull gold, I had held them before,"
by Carol Ann Duffy
Carol Ann Duffy's humorous poem 'Weasel Words' gave me the idea of creating a necklace with ten silver weasels chasing their tails around the wearer's neck. The weasels are made from silver and oxidised black silver.
EXTRACT FROM WEASEL WORDS
"Let me repeat that we Weasels mean no harm.

You may have read that we are vicious hunters,
but this is absolutely not the case. Pure bias
on the part of your Natural History Book. Hear, hear."
by Carol Ann Duffy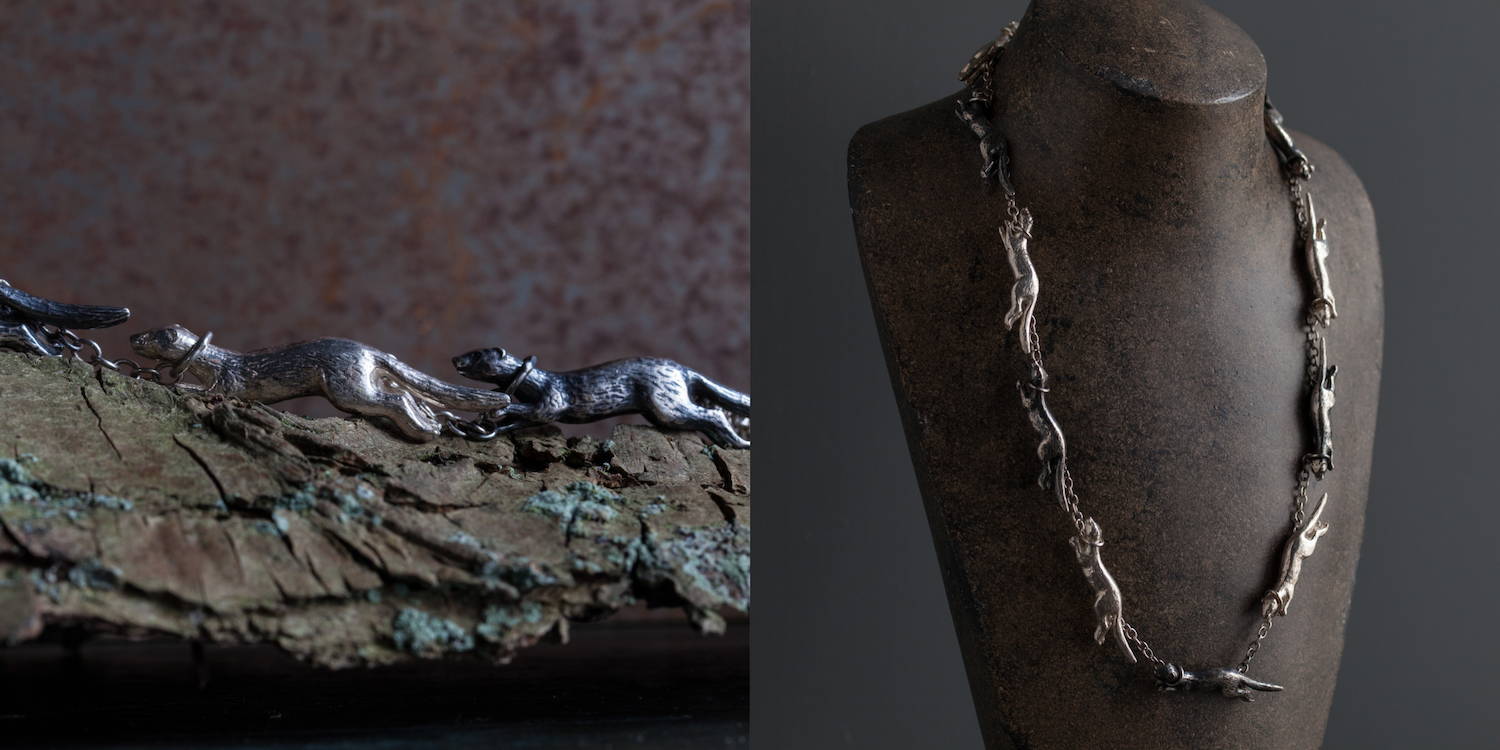 HE LOVES ME HE LOVES ME NOT BRACELET
Carol Ann Duffy's 'Terza Rima SW19' inspired a bracelet called, 'He loves me, he loves me not.' Individual oxidised-silver petals are engraved with the words 'he loves me, he loves me not', creating the shape of a daisy.
The bracelet is then made from strands of silver chain.
EXTRACT FROM TERZA
RIMA SW19
"She feeds the ducks. He wants her, tells her so

as she half-smiles and stands slightly apart.
He loves me, loves me not with each deft throw."
by Carol Ann Duffy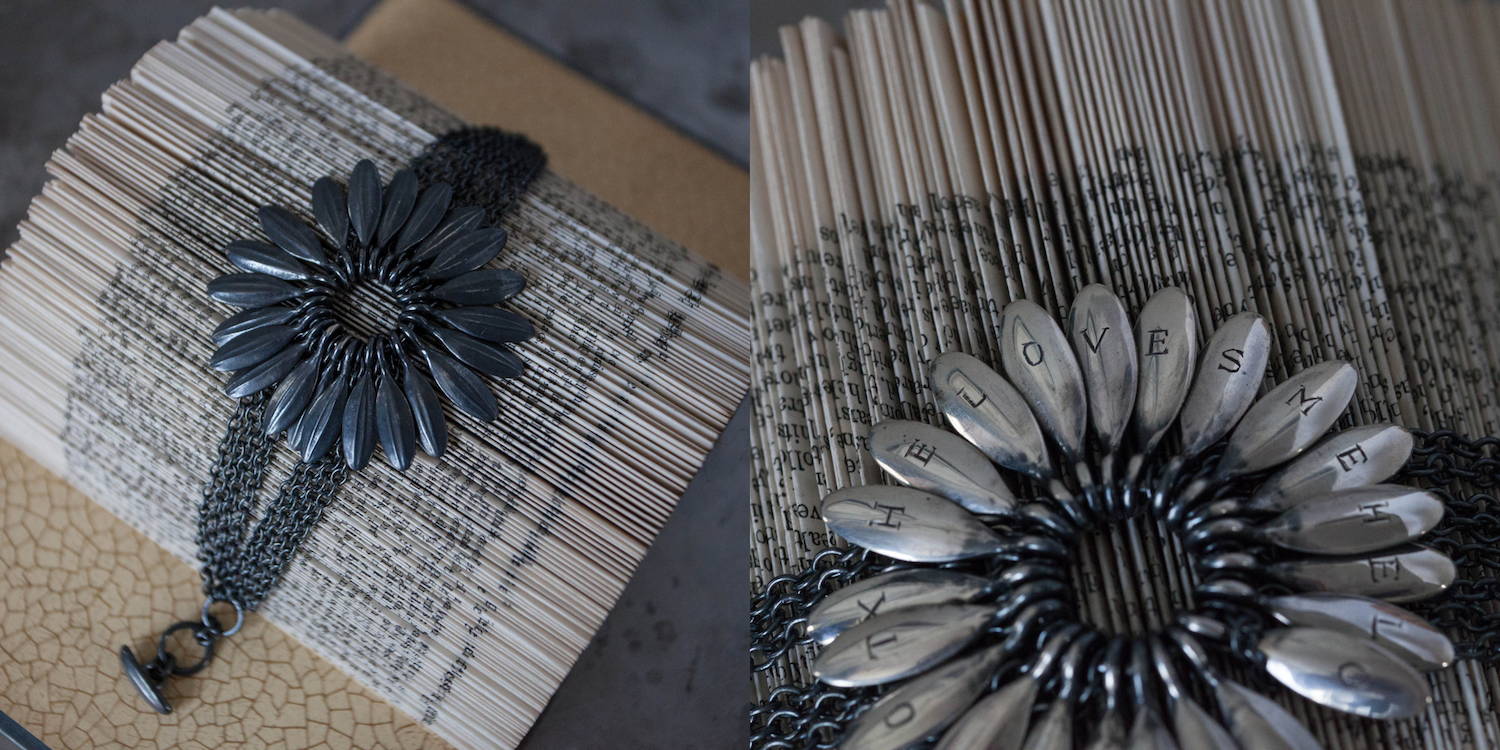 THE LOST HAPPY ENDINGS NECKLACE
I wanted to create a whimsical piece inspired by the tree top where the lead character, a 12-fingered child called Jub, would empty her sack of Happy Endings each night. The branches with their moving butterflies, leaves, acorns and
stones represent the power and magic of stories.